Price List
You can choose the attendance of your child according to your needs and the needs of your child. Children can attend the nursery any number of days in a week. Our nursery offers a half-day or full-day service.
It is possible to apply for a Discount for child placement in a preschool establishment (according to Section 35ba, paragraph 1, letter g) of the Income Tax Act) in the amount of 14,600 Kč per dependent child living with a taxpayer in a jointly-owned household. You are entitled to a parental allowance if the child attends a children's group not exceeding 92 hours in the calendar month, this limitation is not applicable to children over 2 years. More.
The price list for the school year 2021/2022 remains the same as the previous year.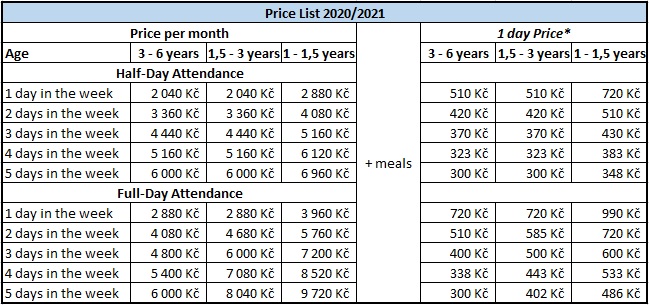 If the child is excused in advance, it is possible to transfer unused days to the first week of the next month or get a 50% discount on attendance of the excused day.
Unexcused attendance is understood as drawing the tariff.
One-time attendance above the tariff limits: CZK 510 / half-day, CZK 720 / all-day, regardless of age.
The price of the nursery fees does not include meals.
* approximate conversion for 20 working days = how much costs 1 day in the children's group.