The opening hours of the children's group are from 7:30 a.m. to 2:30 p.m. In case of parents' interest, the children follow the children's club, which is open until 5 p.m.
A discount for placing a child in a preschool can be applied to the kindergarten fee (according to section § 35ba, paragraph 1, letter g) of the Income Tax Act). In 2022, a discount of CZK 16,200 can be applied for each supported child living with the taxpayer in a joint household, in 2023 CZK 17,300. You are entitled to parental allowance if your child under the age of two attends a children's group for no more than 92 hours in a calendar month, the attendance of older children is not monitored.
Nursery fees for school's year 2023/2024 (from 01.09.2023 to 31.08.2024).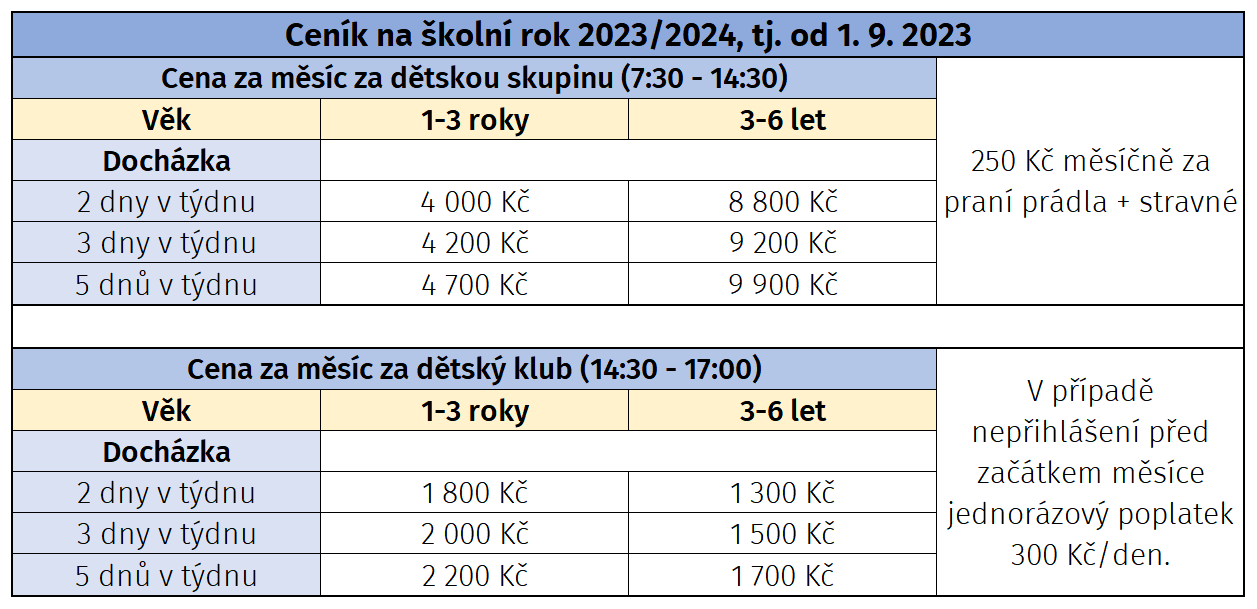 Meals and laundry are not included in the price of kindergarten fees.
**A child is considered to be under 3 years old if his 3rd birthday is 01.09. of the given school year. For the 2022/2023 school year, therefore, children born on or before September 1, 2019. According to the amendment, children born before 31/08/2019 are considered older.
One-time attendance exceeding the needs of the tariff: 480 CZK/1-3 years (max. up to 4700 CZK/month), 950 CZK/3-6 years.
Children's group Meteorka is not a VAT payer.
The opening hours of the afternoon children's club during the summer holidays (i.e. in the months of July and August) are from 14:30 to 16:30 p.m.
The price list from the amendment is affected by the amendment to the Act on the provision of child care services in a children's group, which brings a ceiling on the amount of invoicing for parents of younger children under 3 years**. However, from the point of view of the operators of children's groups, the amendment brings a lower state allowance for younger children than in previous years and a significantly lower state allowance for older children. The allowance for older children is also provided in the de-minimis regime, which is not available to the DS Meteorka. For the stated reasons, we were forced to make a significant change to the price list, which had been fully functional and effective for the previous 6 years.